We are providing services to schools in California at this time.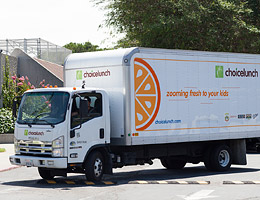 We have five kitchens throughout Northern and Southern California that service a large number of private and public schools, typically in smaller school districts that don't operate their own centralized kitchen.
What is our typical school size?
We serve many public and private schools that can have as few as 250 kids, or as many as 1600 kids. We generally partner with schools that have at least 250 students, but we are always interested in exploring solutions for your situation!
Do you require a certain number of orders?
No, there are no minimum orders but in general, we need at least 50 lunches a day to be served at a school. Our typical schools order between 80-300+ lunches a day. We have no hidden fees, either to the school or the parents, other than the cost of the lunches.
If you would like additional information about starting Choicelunch at your school our Director of Sales can be reached at:

support@choicelunch.com