Standard Order Deadline:
Our full menu is available for ordering until noon 3-days in advance of the lunch service date.
This means the full menu will be available for ordering up until noon on Friday for lunch on Monday, Saturday at noon for lunch on Tuesday, and so on. We will still have last-minute ordering available up until midnight the day before lunch service, but the late-ordering menu is limited to regular-sized hot entrées only, with entrée availability on a first-come, first-served basis. Additionally, we aren't currently able to customize a la carte sides for late orders.
To help ease the transition, we are waiving the $1.00 late ordering charge for the month of September. The ordering system will notify you that you're placing a late order, and might say something like, "you will be charged an additional $0.00 for late ordering." You can note all the zeros there and just click through for September. Hopefully, this will help ease the transition for many of you who will be establishing new ordering habits in light of the change.
We will also be increasing the number of entrées available for late ordering, but due to the first-come, first-served nature, and limited availability, ordering in advance of the standard ordering deadline at noon will yield a vastly better experience for your family.
Here is the deadline schedule -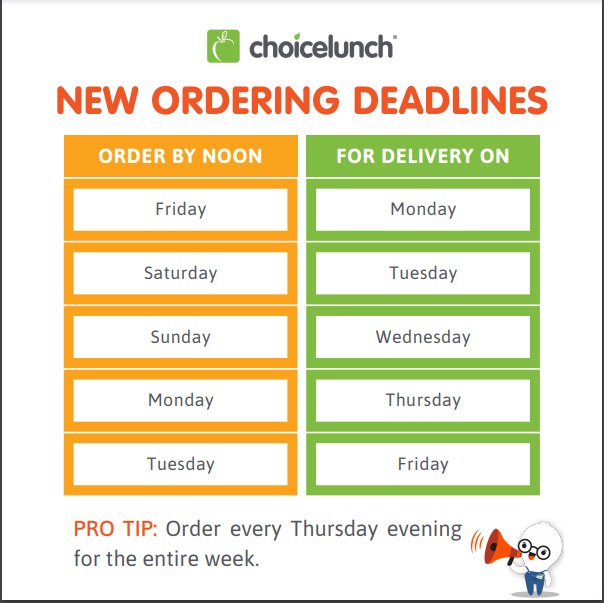 Cancellation Deadline:
To cancel any lunch for full credit you will need to cancel the lunch online before 9 am the day before.
Any lunch canceled after the 9 am deadline but before 12 midnight the day before lunch, you will receive half credit. Credit will not be issued for lunches canceled after the midnight deadline.
*If you are on one of the Choicelunch meal plans and you cancel a lunch online, it can count towards one of your rollover credits. You will see the total amount of rollover credits on your next meal plan invoice.
Field Trip Cancellations:
Although we work with all of our schools to make sure that their calendar is updated with all school holidays, and minimum days, we do not know, when an individual class will be taking a field trip. It is the parent's responsibility to cancel this lunch within the cancellation deadline to receive credit for that lunch.
Sick Child Cancellation:
Sometimes unforeseen events happen and understand children can get sick, and although we are very sympathetic to our families, by morning the lunches are packed and on their way to the schools. However, if you should cancel the lunch before midnight the night before the lunch is to be served we will be happy to share the cost of that lunch and place a half credit on your Choicelunch account.