Standard Order Deadline:
Our full menu is available for ordering until noon, 3 days in advance of the lunch service date.
This means the full menu will be available for ordering up until noon on Friday for lunch on Monday, Saturday at noon for lunch on Tuesday, and so on. We will still have last-minute ordering available up until 9 am the day before lunch service, but the late-ordering menu is limited with entrée availability on a first-come, first-served basis. All sides are available up until 9 am the day before lunch will be served.
Late Order Deadline:
Choicelunch is extending our ordering deadline until 9 am, the same day as lunch service. This means you can still order a delicious Choicelunch entrée (no sides) from our same-day menu, even if you miss the 9 am day before the deadline. It's like a second chance for lunchtime success!
With our new extended deadline, you'll have the opportunity to choose an entrée, which is not an option with an emergency lunch at school. Plus, you can avoid those pesky late fees that come with an emergency lunch.
Check out the handy comparison chart below to see how our different ordering deadline options stack up.
Here is the deadline schedule -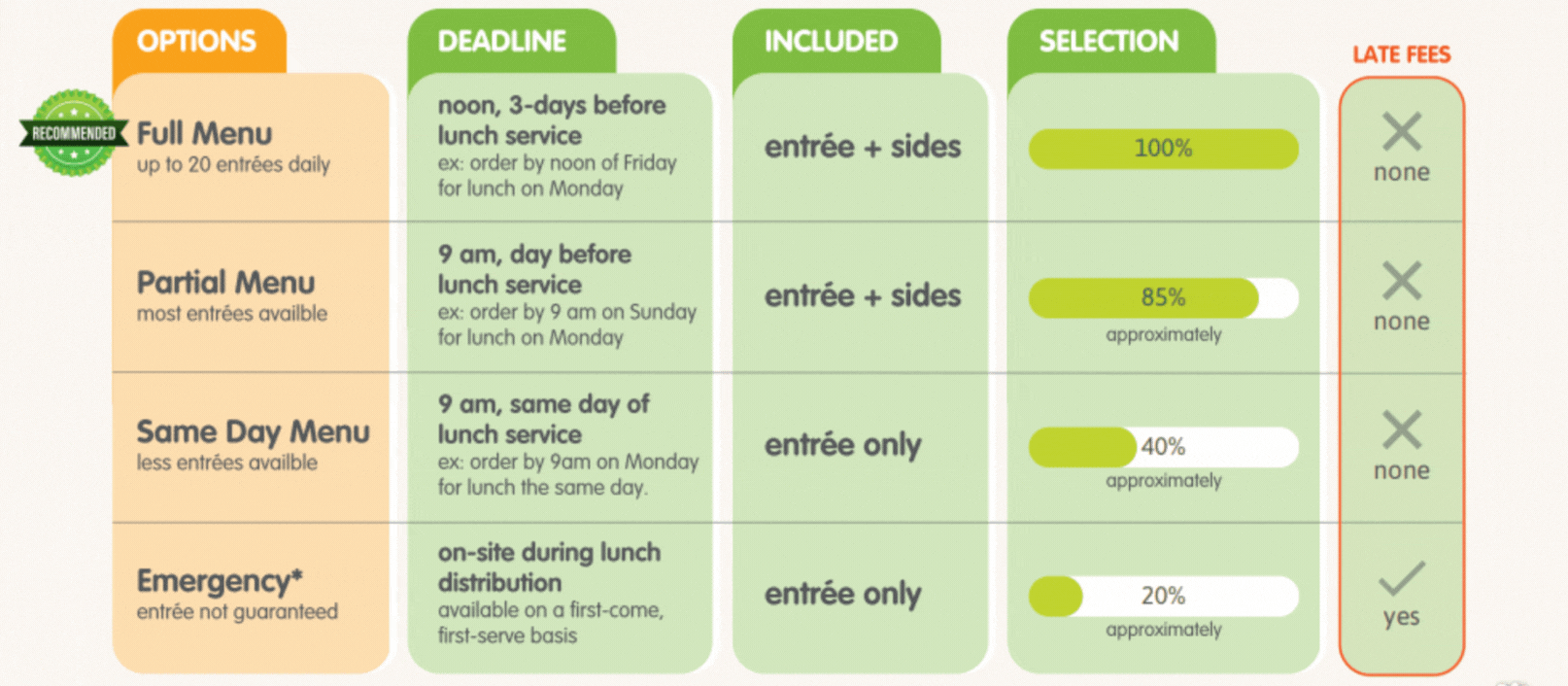 Cancellation Deadline:
To cancel any lunch for full credit you will need to cancel the lunch online before 9 am the day before.
Credit will not be issued for lunches canceled after the 9 am day before, the deadline.
*If you are on one of the Choicelunch meal plans and you cancel a lunch online, it can count towards one of your rollover credits. You will see the total amount of rollover credits on your next meal plan invoice.
Field Trip Cancellations:
Although we work with all of our schools to make sure that their calendar is updated with all school holidays and minimum days, we do not know, when an individual class will be taking a field trip. It is the parent's responsibility to cancel this lunch within the cancellation deadline to receive credit for that lunch.
Sick Child Cancellation:
Sometimes unforeseen events happen and understand children can get sick, and although we are very sympathetic to our families, by morning the lunches are packed and on their way to the schools.