Hey there, lunchtime superheroes! We're excited to see our lunches bringing joy to kids at your school. To make spreading the word even more fun, we've got some awesome resources for you. Let's dive in:
Promotional Materials:
We understand the importance of sharing information easily. That's why we've created a handy library of promotional materials just for you!
You might be wondering, what's included in this magical library? Flyers, images, and various-sized banners for school announcements, newsletters, and social media are all there. It's like having a lunchtime creativity toolkit at your fingertips!
With these materials, you can make sure everyone knows about the deliciousness and convenience of Choicelunch. Spread the lunchtime love far and wide.
CLICK HERE to access the resource library.
Translation Made Easy:
We believe in inclusivity and making information accessible to everyone. That's why we've made it super easy to translate the information on our website.
Say hello to Google Translate! You can use this nifty tool to translate the text on our website to the language of your choice. It's like a language superhero at your service.
Simply click on any language from the drop-down at the bottom of the page, and watch as the text magically transforms. Please note that only the text is translated, not the images. Lunchtime communication just got more global!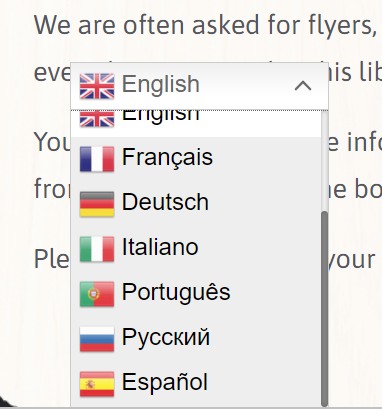 Feel free to explore the promotional materials library, get creative with sharing Choicelunch, and make sure the lunchtime goodness reaches every corner. We appreciate your support in spreading the word!
Remember, lunchtime adventures are even more fun when everyone gets to be a part of it. Enjoy the convenience, variety, and deliciousness that Choicelunch brings to your school community. Let's make lunchtime an unforgettable experience for every lunchtime hero. Bon appétit!
Please get in touch with your Account Manager for assistance if you can't find what you need or have a special request.